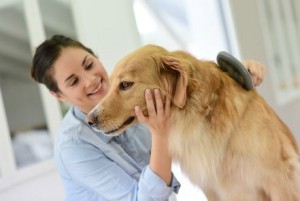 Dogs have earned a reputation of being a pet owner's best friend. There is perhaps no better animal companion than a dog. Part of owning a dog, of course, is the need for regular grooming. While many people groom their own pets at home, there are also good reasons to consider having your dog professionally groomed.
Convenience
Grooming a dog properly takes a lot of time, particularly for dogs that are prone to matting or that are being placed in shows. Even if you don't mind grooming your dog at home, it is still convenient to save the time by having the animal professionally groomed. Many people also have injuries or illnesses that make it difficult to groom a pet at home. In these situations, it is particularly convenient to have the dog professionally groomed.
Equipment
Grooming a dog requires having the right equipment, both to achieve good results and for safety. This equipment includes scissors and electric razors, as well as specialty shampoos. A table of the proper height is also essential for a safe and comfortable grooming session. Professional dog groomers have the right equipment to groom your pet safely.
Experience
Different breeds require different grooming techniques. A professional groomer will be able to make your dog look his or her best.
Dogs that have behavioral issues or that are nervous about being groomed may be difficult to handle at home. Professional groomers have experience working with animals who are anxious and are able to work with your pet to make it a good experience.
D'Tails Grooming has been providing professional dog grooming and day care since 1999. We love animals, and have been working with them professionally for decades. Our staff is highly skilled and experienced, and is committed to providing your pet with the best possible care. Contact us today at 706-731-0089 to learn more about our dog grooming services or to make an appointment for your pet.