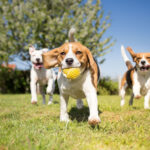 It can be difficult to train your puppy. It takes time to get them to be disciplined and to grow out of their puppy phases. Introducing them to new people and new dogs will take some patience, but once you get them comfortable being around others, they won't be so nervous.
It's important to ease them into it because exposing them to a large crowd can be a bad thing. They may get extremely nervous and frightened to be around many people.
Here are some tips on how to introduce your dog to other people and other dogs properly:
Start Off with the Minimum
One of the most important things you can do when introducing your dog to others is to start off with a small number of people. You never want to throw them in a room with a crowd because they'll get overwhelmed.
Have your dog make the first move
Have your friends or family offer them a treat
Don't reward them for shyness
Be patient with them
Getting them comfortable being around smaller groups of people will help them to gradually get used to being out in public at parks and even businesses where dogs are allowed.
Dog Parks Can Be Difficult
If you have a puppy, your first reaction is taking them out in public and showing them off. Not every dog will be comfortable with this. When it comes to meeting other dogs, it's important to have a playdate with one of your friends who also has a dog. This is beneficial for allowing them to feel out the other dog. Helping them to get used to being around one dog will be beneficial for taking them to dog parks in the future.
The Benefits of Socializing Your Dog
Your dog needs to have a social life just like humans do. They need to be around other people and other dogs, so they don't feel trapped to your home. One of the best ways to have them socialize is to allow them to have playdates.
At D'Tails Grooming, we offer boarding and playdates for your pet. If you want your dog to meet other dogs, this is one of the best ways to do so. Contact D'Tails Grooming at 706-731-0089 today or visit us online for more information!