When you get your puppy, there is a good amount of responsibility that you acquire. Feeding, training, and grooming are all a major part of your puppy's life. Many dog owners have to figure out when is a good time to start bringing their puppy to a regular groomer.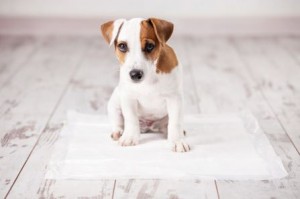 Many people treat their dogs like their kids, and just like a parent takes a child to get their hair cut somewhere, it's normal to take their pet dog to a groomer, even at a very young age.
Dogs can get squirmy and nervous, too. Do your best to make their initial visit to the groomer a stress-free, pleasant experience.
So when should you introduce a puppy to grooming? At home, you can use gentle touch to get them used to people touching them. You can try gentle brushing/combing, too. Eventually, you'll want to take your puppy to a professional groomer, and this is best done when your pet is 10 to 12-weeks-old. Another way to figure out the "right time" would be this: take them after they've had their second round of vaccines.
Dogs generally stay at home, so it's an interesting day, to say the least, for both you and them when they're going to go for a car ride to the local vet or groomer.
If you've never taken a dog to the groomer before, you're probably wondering what happens there. First, the dog gets brushed, so any tangled hair is removed. Next, the groomer tends to the dog's nails, ears and teeth as needed. After that, the dog usually gets a warm bath and then toweled off. Finally, it's time for the haircut.
Puppies don't have to go for a full body haircut on their initial visit. They may be scared of the sound the razor makes. Or they might be overwhelmed by the sights, smells and sounds of the salon. You can always ask the groomer to take it easy on your puppy for his or her first time, just giving a "face trim, feet trim and sanitary cut." Think of this as the "easy-breezy" grooming style. A month later, the dog can be brought back for full body attention– and not as scared as before.
Eventually, going to the groomer becomes routine for both you and your pet. A lot of pet owners take their dogs for professional grooming once a month or so when they're young. If you need help with your puppy's first day at the groomer running smoothly, contact D'Tails Grooming at 706-731-0089 today or visit us online for more information!